Youth Employment and Skills Program provides funding to organizations for the creation of agricultural internships that provide career-related work experiences to youth and youth facing barriers.
Employers must apply on or after June 3, 2019 for their project to be considered. If approved, projects can start on or after April 1, 2019. Approved projects will be eligible to receive 50% of total eligible costs, up to a maximum of $14,000 in matching funds.
Approved applicants that are Indigenous or non-profit are eligible to receive 80% funding up to the maximum $14,000 in funds. Approved projects that hire a youth facing barriers may receive 80% of total eligible costs, up to a maximum $14,000. They may be eligible to receive an additional $5,000 to cover extra costs associated with hiring and supporting youth facing barriers.
Applications will be reviewed on a first-come, first-served basis as long as funds are available. Applicants are strongly encouraged to apply early.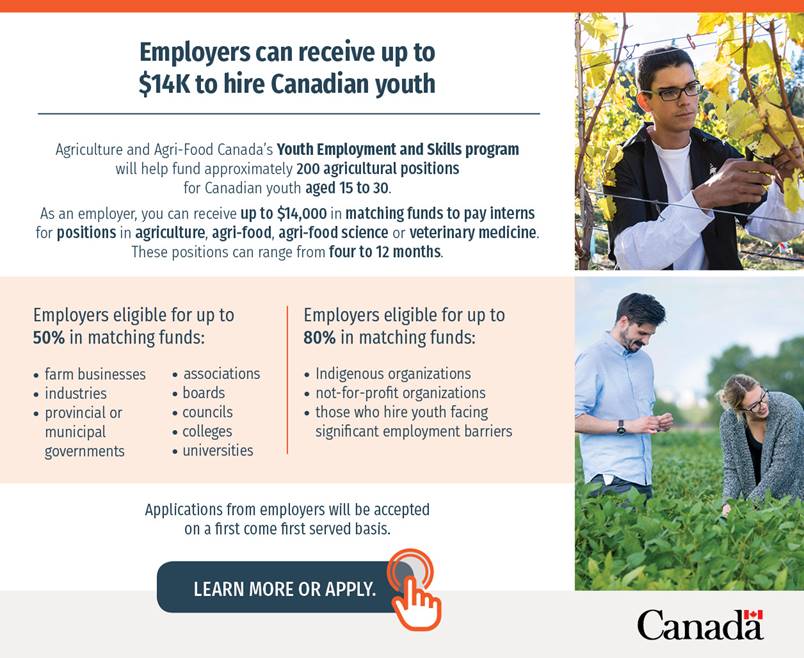 Eligible employers
Eligible employers are organizations who can offer projects that will give employees:
agriculture career-related work experiences in Canada
skills acquisition through mentoring and coaching
Note: eligible applicants must be legal entities capable of entering into legally binding agreements.
Eligible projects
Projects must offer the employee meaningful work (internship) that should last a minimum of four months and must be completed by March 31st, 2020. The project must last long enough to give the employee significant experience and possibly lead to long-term employment or self-employment.
To learn more visit: http://www.agr.gc.ca/eng/programs-and-services/youth-employment-and-skills-program/step-2-who-is-eligible/?id=1558438580513
Click the link below to stay up to date with the latest funding incentives and programs: https://lp.constantcontact.com/su/Y9ARp7T